I can be my own worst enemy at this time of year. Getting out to forage is a battle with my seasonal SAD disorder and I literally have to force myself out between whatever is going to fall from the sky next to chill me to the bone!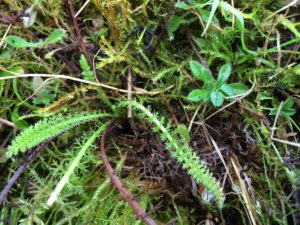 But as always as soon as I am on my way, my smile creeps back and I am once again delighted to be out in the wilds.
There is not much to go at this time of year. But you can still find some super tasty young leaves hiding away. You just need to be able to get down low enough to find them. Dandelion, chickweed, yarrow even ground elder are all poping up the odd tender leaf. Together they make a beautiful fresh burst of interest and intense flavour to zing up a salad or create a beautiful garnish. If, that is you can be bothered to search.
Something much easier to locate and confidently identify (you could only really mistake it for Clover which is also edible, one taste will tell you if you are right), is the truly exquisite Oxalis acetosella or Wood Sorrell. This wonderful little trefoil has a tang like sour apple, grape skin or sharp citrus and packs such a mighty punch of vitamin C, it used to be used to treat scurvy.
It grows all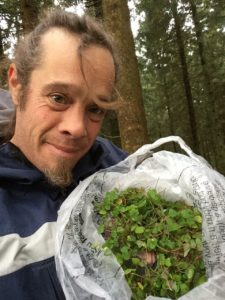 over the place, dark damp undisturbed woods and hedgerows.  Not difficult to find round these parts 'ol butt'!
When you do find a patch it will be everywhere. It is worth having a scout around, because some patches sit up a little higher, on a mossy log or on the sides of banks. This makes harvesting a much easier and ultimately more pleasant experience. Try to pinch or snip just the leaves as the base of the tender looking fine stem is very woody.
A cautionary word. All members of the Oxalis (sorrell) family contain oxalic acid and should NOT be eaten in large quantities. But to put it in perspective, there is oxcalic acid in chocolate, coffee, and many other foods and they don't come with a health warning. just don't spend the whole day grazing.
Once you have your bounty back in the kitchen and washed, it is time to get creative. The sour tang works well with sweet flavours and also helps cut the richness of fattier dishes. Try adding to a duck egg omelette, or mixing with a little sour cream, french mustard, salt pepper and oil for a great addition to grilled salmon or chicken.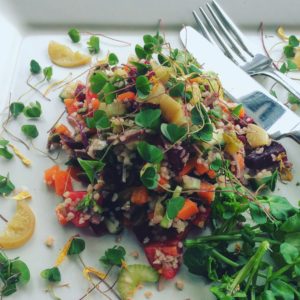 I was famished by lunchtime so made a quick but spectacularly tasty and quite beautiful Bulgar wheat salad.
Adding to the sour apple sorrell with a little finely sliced preserved lemons and some citrusy dried lemon verbena (a Christmas pressie). I balanced all these tangy sour notes by adding sweet chopped apple, beetroot and an amazing, delicious white balsamic vinaigrette (also a Christmas gift) to the salad alongside the usual suspects, carrot, cucumber, celery, pumpkin seeds…….  you can use what you have.  Enjoy.
Next time, Wild garlic and a recipe from the 'First Thursday Supper Club', my new collaboration with Bespoke Brewing at Mitcheldean on, you guessed it, the 1st Thursday of every month at the Brewery Tap.  Call if you wish to book.
Happy foraging.
Barney, Infamous Catering
Mobile: 07954583784