WINTER FORAGING!
Winter is not my favourite time to forage here in the forest., the odd oyster mushroom ,some interesting salad greens in the form of chickweed, herby bitter cress or young dandelion leaves. But nothing of any real Interest.
However should you like me enjoy the solitude of a beautiful winter beach or coastal walk then there are still pickings aplenty. There are over 30 varieties of edible seaweed, razor clams winkles.. and wonderful sweet Mussels.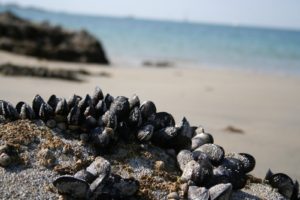 Take a little gas stove, a pan with a lid and a couple of ingredients on that walk and boom, you could be sat on that beach
enjoying the freshest seafood ,dipping crusty bread in to a beautiful garlicky wine sauce and making unforgettable memories.
But Please, only take mussels if there is an r in the month, check the water quality of the area and don't over harvest!
MUSSELS IN GARLIC AND WHITE WINE SAUCE
Ingredients: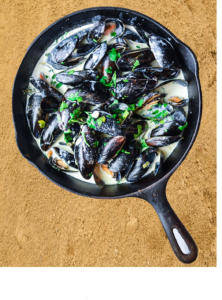 1kg or as many as you find of mussels
50g (1¾oz) unsalted butter
1 medium onion and 1 clove of garlic, finely chopped
50ml (2fl oz) dry white wine
1 tbsp roughly chopped fresh parsley
Method:
Wash the mussels well. Scrape away any barnacles with a small stout knife. Pull off the beards and wash again. Discard any that are open and do not close when tapped.
Add the mussels, butter, onion, white wine and half the parsley to your pan and set over a fierce heat keeping the lid on, apart from the occasional stir. When they are all open, remove from heat and leave for 30 seconds to let any grit settle to the bottom of the pan.
Sprinkle over the rest of the parsley, pat yourself on the back and dive in to the tastiest foraged meal ever.
Use websites like eatseasonally.co.uk to find what is good now and follow the seasons.
Follow my bi-monthly foraging and seasonal recipes on The Forest Bee website – just click on the 'Foraging News' picture on the left, or check out Infamous Catering on Instagram and Facebook.
M: 07954 583784 or T: 01594826215
E: ian.barnes@zoho.com.