HEDGEROW FORAGING!
I lost my father last week, weeks before one of his favourite times of the year.  My dad was a Yorkshire man through and through and he loved nothing more than "sumutt for nowt" and the humble blackberry fitted the bill perfectly. We would descend as a family, little pots in hands or, in the best years, a carrier bag each. Picking and then taking them home to eat fresh, in a fruit salad or the next day in a crumble then freeze the surplus for the winter ahead, saving a few quid at the same time.
One of my favourite ways to honour the blackberry is one of the most impressive but easy deserts I know. The beautiful summer pudding. You can make it with gluten free bread with enormous success, it is a great one for vegans with dairy free ice cream and it never fails to get a wow.
Ingredients: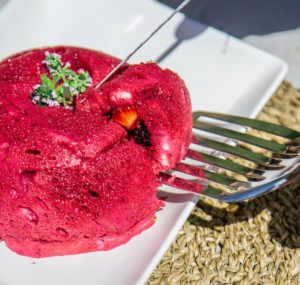 350g strawberries
300g blackberries
100g redcurrants
500g raspberries
(Or what you have.)
125g golden caster sugar
7ish slices day-old good white bread or gluten free
Put sugar and 3 tbsp water into a large pan and heat until sugar dissolves. Boil for 1 minute, then tip in the fruit (not strawberries). Cook on low for 3-4 minutes with minimal stirring. The fruit will be softened but holding together and surrounded by dark red juice. Use a sieve to separate the fruit and catch the juice into a bowl keeping both.
Line a pudding bowl with cling film in both directions and alow 6″ overhang on all 4 sides. Cut the crusts off the bread. Cut 4 pieces of bread in half, a little on an angle, to give 2 lopsided rectangles per piece.  Cut 2 slices into 4 triangles each and leave the final piece whole.
Dip the whole slice into the juice just to coat it. Push this into the bottom of the basin. Now dip the wonky rectangular pieces one at a time and press around the sides so that they fit together, alternately placing wide and narrow ends up. If the last piece does not fit just trim into a triangle, dip in juice and slot in. Now spoon in the fruit, adding the strawberries randomly as you go.
Dip the remaining bread triangles and place on top. Keep leftover juice for later. Bring cling film up and loosely seal. Put a plate on top and weight down with cans. Chill for 5 hrs or overnight. To serve, open out cling film then put a serving plate upside-down on top and flip over. Serve with leftover juice, cream or icecream.
Use websites like eatseasonally.co.uk to find what is good now and follow the seasons.
Follow my bi-monthly foraging and seasonal recipes on The Forest Bee website – just click on the 'Foraging News' picture on the left, or check out Infamous Catering on Instagram and Facebook.
M: 07954 583784 or T: 01594826215
E: ian.barnes@zoho.com.