FORAGING SHOULD BE A WAY OF LIFE!
I add foraged foods to my wedding and party menus wherever I can. One of my favourite wild foods is the humble Nettle.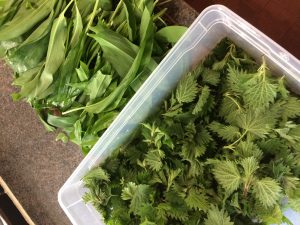 Rich in vitamins A, C, D, iron, potassium, magnesium.. and up to 20% protein, well higher than almost any leafy vegetable! Better yet they are delicious, free and everywhere.
Harvest with or without rubber gloves, snip or pinch, you will get stung whatever, it's part of the fun! Aim for the top young leaves in March and April. Later in the year cut them back to promote new young growth.
Use like spinach – in soups, stews, juices..
Or try this wonderful Greek inspired Nettle and Feta pie.
Preheat oven to 180oC/160oC degree Centigrade fan/gas mark 6.
Finely slice then fry 2 red onions in butter till golden. Add 2 cloves crushed garlic and fry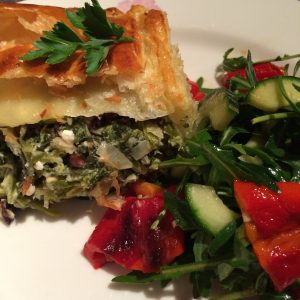 for another minute. Add 250g each of chopped nettles and spinach, salt, pepper and nutmeg and cook till wilted.
Squeeze out liquid then add chopped fresh dill, mix with 2 beaten eggs, 200g crumbled feta, 75g pine nuts and the zest of a lemon.
Line an oven dish with rolled puff pastry. Add filling, cut a lattice top from leftover pastry, brush with oil and bake for 35-40min till golden and springy to touch. Cool for 15 min before serving with crusty bread and a green salad.
Use websites like eatseasonally.co.uk to find what is good now and follow the seasons.
Check out Infamous Catering on Instagram and Facebook.
Happy foraging.
Barney, Infamous Catering
Mobile: 07954583784