(Sorry, this one just from me rather than the professionals!)
What a beautiful season it is to enjoy  here, the stunning Autumn colours, the last of the blackberries to forage, rose hips and, what looks like a bumper crop of Chestnuts, though take your gloves an a thick bag if you're planning to collect these.
Particularly good this year too are the cob nuts, and what is equally amazing is how the squirrels and even my dog can tell the ones with nuts in, yet we 'clever' humans can't (though I'm working on it).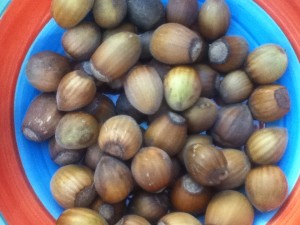 ANYONE DO ANY LOCAL FORAGING COURSES?  We'd love to hear from you!   As well as all this, it's a great season for mushrooms, but as a novice, I daren't risk picking and eating them just in case ong.  Maybe something for next Autumn?