Nettle has a unique and delicious flavour. No surprise then that its soups with potato, a luscious risotto, and the various flamiche recipes become favourites.
This recipe concentrates the taste of the dark green fleshy leaves with the rustic flavour of toasted sunflower kernels, a soupcon of chilli heat, and the richness of a good olive oil.
You could use this forager's Nettle pesto as a base and build it up with flavours of your own: such as basil, anchovy fillets, Kalamata olives, crab apple purée, or hazel nuts.
INGREDIENTS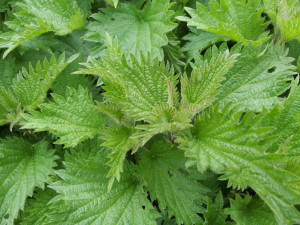 100g stinging nettle leaves (single leaves without stalk or petioles)
100 ml good olive oil
2-3 garlic cloves, chopped finely
2 tsp mild red chilli, chopped finely
1 tsp black pepper, freshly ground
50g sunflower kernels
juice of 1 lemon
Put the nettle leaves into a bowl and cover with clingfim and microwave on full power for 2 minutes. Take out of the microwave, leave the clingfilm on and allow to cool for 5 minutes. Alternatively steam the nettle leaves for 5 minutes until tender.
Fry the chilli in 2 teaspoons of the olive oil until soft and the oil is coloured.
In a food processor add the rest of olive oil, the fried chilli and all the chopped garlic and blitz. Add the nettle leaves and combine to a smooth purée. Add black pepper and lemon juice to taste.
Heat the sunflower kernels in a dry frying pan over a moderate heat, stirring or tossing them, until they just start to colour. Careful or they will burn. Immediately tip into a bowl to cool.
With a spatula, remove the nettle purée from the food processor bowl into a serving bowl. Add the sunflower seeds and gently mix in.
Serving tips: excellent with feta cheese, on toast (or bruschetta), with roast vegetables (including jacket potato), or just mixed into hot pasta.
The pesto will keep in the fridge, best to top the pesto with a thin layer of olive oil and store in a sterilized, lidded, and labelled jar.
Foragers tip: If you cut stinging nettle back to about 20cm high, it will reshoot giving you a supply of fresh leaves. Repeat cutting works until the first frost.
Christopher Robbins
Medical Herbalist & Forager
Twitter:@phytoforage