Ow bist forest friends, and thank you to the Forest Bee for inviting me to write this monthly submission about foraging in the Forest of Dean. Each month I will feature a few of the wild ingredients available in our woods, with recipes and preserving tips you may try for yourself.
I would not call myself a foraging expert but rather an enthusiast and a cook. I was born five thousand miles west of here and have spent most of my life living in cities. Six years ago I didn't know my damson from my ramson. The first time I saw a spindle berry they sure looked delicious, but I had much to learn.
My dear husband is a proper forester with ancestral connections to the Forest of Dean that go back many generations. When we relocated from California the flora and fauna became my first attachment to this new place. Our children propelled us along as way, their curiosity always one step ahead. And there is a new member of the family now, born within the Hundred's of St. Briavels like his dad. It is his birthright to eat and play in these woods too.  With time to spare, identification books in our pockets, and a wave to ancient traditions as we head out with our baskets.
In order to both feed and support my family, I have become familiar with and practiced upscaling these wild ingredients, confidently delivering bowls of nettle soup to my own kids, (it's their favorite), then skeptical Londoners, wild mushroom pie and local game and sorrel stew to punks at a music festival, even wildflower salads and dandelion bread to locals on the lawns of the Speech House.  The dishes were all emptied, surely due to the freshness and quality of the ingredients. Now I am pleased to present these recipes to you. May they nourish you they way they were intended to.
For this month of March I will focus on my two favorite spring greens that are abundant now, easily identifiable and commonly recognized.
And so we begin with the humble nettle, one of the first foods to emerge after a long winter and easily identifiable.  The protein packed nettle has a delicate earthy flavor when cooked, and is rich in vitamins A and C, iron, potassium, manganese and calcium. Pick then now and for the next couple of months. Use scissors cut the stem beneath the top four leaves for soup, winning recipe included. We look forward to the first bowl every spring.
Please note that this is my choice combination, and that you can add to or take away ingredients from this list according to your own taste as long as the amount of veg you add equals the amount of stingers. Serves two.
Chop one onion, one leek, one carrot, one stalk of celery, one tablespoon of crushed garlic, and one tablespoon of fresh herbs, and add to one cup of water in a tall pot. Cook at medium heat for five minutes.
Add one large basket of fresh nettle leaves, washed and still wet. Add one more cup of water and cook another twenty minutes at medium heat, stirring occasionally. Let sit for five minutes off the heat and blend until smooth.
If you are vegan, pour into a bowl, add a pinch of nutritional yeast, and enjoy.
If you want a creamy soup, briskly whisk in a béchamel sauce after blending, and/or sprinkle a finely grated hard cheese.  I've heard of people adding chopped fried bacon for garnish, which must be nice, too. 
Hairy bittercress, a wonderful looking plant and even better cut and added to your salad leaves. It is rich in Vitamins A and C and contains calcium, phosphorus and magnesium. As a bitter green it also benefits our digestive system. Under the right conditions hairy bittercress will be available for the rest of this calendar year, so now is the perfect time to add this plant to your foraging repertoire.
I would like to give a nod to all the preserves that have brought my family thru through the winter.  Last autumn I created a sourdough starter with grapes growing at my mother in laws house and hedgerow fruit, the white yeasty film on the skins producing a bioregional taste I am so happy with. There are still jars of damson, rose hip and crap apple jelly in the pantry, dandelion syrup for our pancakes and sloe gin for rainy days, as well as dried linden, self heal and clover for tea.  I use a tablespoon of intense mushroom brine made of sliced parasol, puffball, scarlet elf cap and jelly ears preserved in sea salt every time I make soup.  It adds a depth of flavor that Oxo cubes never will.  And as I finish writing this from a fishing dock at Steam Mills Lake, I treat myself to a sandwich of pickled Oyster mushrooms, marinating since early January.  Delicious!
Pickled Mushrooms Recipe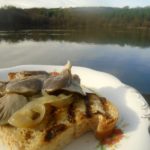 Boil one cup of organic wine vinegar with one tsp salt, one tsp sugar and a few whole cloves.  Add two bay leaves, one sliced onion and about three cups of clean fresh wild mushrooms. Slowly simmer for five minutes.
Spoon mushrooms and onions into clean, sterilized jar and gently pour over the liquid. Seal with lid and let marinate somewhere cool for one month and up to six.
Serve as an antipasto or with crusty bread.
For more about our new Foragers, visit their website at www.foodforesters.com