For me, food is one of the most important things I have to think about every day.  I am a darned good cook, creating unforgettable flavours from seasonal British ingredients everyday!! But I do get fed up of shopping, planning meals, using things up in the fridge, so like to introduce a bit of imagination to make it all much more exciting.
So I mix it up, and that is where foraging kicks in and breaks the cycle.
I am not some mega bearded bush master jedi, no, I am just a dad of 2 who is lucky enough to live in this wonderful wilderness.  With every season of every year, I learn of a few more wild foods I can harvest, where to find them and when. So my wild pantry grows and grows.
At this point it is worth pointing out that as a mad foodie I am not foraging for a matter of life or death survival type stuff.  No, I am all about finding amazing tasting wild ingredients that will take a dish to the next level for free (wild mushrooms, spring nettles, Wild Garlic, Elderflower…).
A walk in the beautiful forest with my family and friends becomes a trip to the shop.  Foraging for food is in our blood and I promise the collective satisfaction of going for a walk, and finding just one major part of a meal, let alone 60 or 70% of it, ranks pretty high in the family bonding stakes. You might even find you get some interested helpers in the kitchen when you get back!  If you are reading this wondering how you too can unleash your inner forager this July, then I think the wild cherry is the place to start.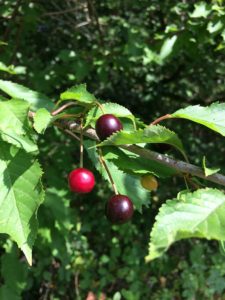 Wild Cherry is easy to identify. It is a colonizing tree, you will find it on the edge of fields and woodland, not deep in the forest. It is easy to recognize, it has a shiny trunk with striped lateral rings, saw tooth edged leaves, pink blossom and of course its fruit.
Much smaller than a shop bought Cherry (if you are lucky you may find a cultivated tree with full size cherries, these are sweet and great as they are).  The fruit is ripe when it is dark, almost black, as with all cherries it has a large stone in the middle and even when ripe remains quite bitter.  Because of this I suggest cooking the fruit is the best way to fully appreciate these little beauties. That way you get a chance to balance the sweetness with a little honey or sugar at the end if you need it.
They can be used to make jams, pies, cordials and cocktails.. Recipes for all of which are on 'tinternet' should you fancy looking.  But for me the pairing of beautiful pan fried Dean venison with a sweet/sour wild cherry sauce, boiled buttered Jersey Royals and some garlicky wilted greens or nettle tops, is a summer supper made in heaven.
Forest of Dean venison with wild cherry sauce, new potatoes and wilted greens. (serves 2)

Vegetarian Option – substitute venison for halloumi, no not so local, but still very tasty!
Heat some oil in a frying pan to a medium heat, season, then cook 2 200g pieces of venison back strap or loin ( you could use duck breasts, lamb chops, halloumi…) for 5 mins, then turn over and cook for 3-5 mins more, depending on how rare you like it and the thickness. Lift the meat from the pan and set aside to rest. Leave the pan on the heat.
Add 2 tbs balsamic vinegar to the pan, then pour in 150ml beef stock, 2 tbs redcurrant jelly and a clove of garlic minced.
Stir over quite a high heat to blend everything together and reduce, then add 85g of pitted wild cherries and carry on cooking until they soften.
Taste it, is it nice? Would it benefit from a touch of salt, a little more sweet, a bit more tang from some more balsamic? This (assuming you don't burn or forget to cook the meat!) is the most important bit of cooking!!
Taste things, add flavours slowly, you can't take them out again!!
Serve over the venison with new potatoes and seasonal greens wilted with butter and a hint of garlic.
Enjoy
Barney

Infamous Catering
email. barney@infamouscatering
Mobile: 07954583784
land line. 01594 826215