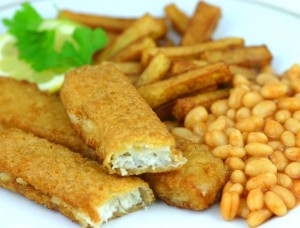 If you have read Part I of Going for it, you will have seen that I had a multitude of excuses for not signing up for an evening class. One excuse that I had was "how would I find time to cook tea?"
Being a mum of two children and brought up with an old fashioned mum who cooked proper meat-and-two-veg style food, it comes as no surprise that I cook from scratch every night for my children. But this was to change for just once a week on a Tuesday evening when I had to make a quick tea with minimum dishes to clear away ready for me to go to my evening class.
And so Yellow Tea was born! What is Yellow Tea, you ask? Freezer food that can go on a tray and cook in 20 minutes; so fish in batter, fish fingers, chicken nuggets, chicken steaks – anything along those lines. Served with frozen potato product; chips, wedges, waffles and frozen sweetcorn. All I had to do was put them in the oven to cook, set the timer and walk away and do something else. What do all these foods have in common apart from the fact that they can cook quickly and easily? – they are all yellow!
Affectionately named in our house, yellow tea of varying selections became a standard every Tuesday evening although I have since explored more colourful, and yes nutritional, but still quick options!