Get yourself out there one of these bright beautiful frosty mornings, whether you forage or not, it'll be a great boost for your health, especially after the excesses of the festive season just gone.
This is a  mix of Christopher Robbins' Spring 2017 Forest Bee Column and Jessie's Foraging News from last year. just getting yourself out there on one of these bright sunny frosty mornings is a great lift,
The cold months of winter have smile and frowns for foragers.  The smiles are having no leaves on the deciduous trees.   The view in the tree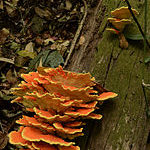 s is much further and also you can see more.  The yellow, scrambled-eggs looking bracket fungi, Chicken of the Woods is much easier to spot.  These are usually on oak trunks.  The frowns are because the forest floor is covered with leaves that hide treats like Chestnuts and edible fungi.
But walking in the winter forest has its own delights.  The animals can be seen before they take flight and the introduced larch trees leave a fine, golden, needle covering that brightens the dark brown litter, especially so on sunny days.
But plants are determined beings.  Already by the end of January in mild winters there are shoots of both Stinging Nettle  and Clivers (or sticky willy) are coming out.  They might be only a few cm high, but these were traditionally the Spring Tonic after a winter eating only pig fat and root crops like turnips and potatoes. A heavy diet. These two herbs were made into a blissful soup that helped with liver clearance. Nettle is one of the foragable treats. It has a unique and blissful flavour (see notes below on incorporating this healthy brew into your soups, supplied by Jess, HerbalWays)
Other plants you can forage just now for a good health boost:
GORSE – Ulex Europaeu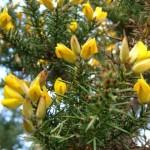 These bright yellow flowers found growing on the gorse bush and they have a delicate coconut flavour. They can be eaten raw or dried and made into a tea. The flowering buds can also be picked and pickled similar to capers. But beware of the plants sharp needle like spikes! The plant is in full bloom in spring and right through to August but the bushes are to be found in blossom all year round.
There is an old saying: 'when Gorse is out of bloom, kissing is out of season,'
The flowers should not be consumed in large quantities but a few as a wayside nibble or a handful added to salads or sprinkled on risottos or other dishes is fine.
Stinging Nettle – Urtica Dioica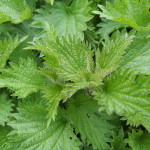 The all too familiar nettle leaves are now starting to appear. Nettle are very nutritious, rich in vitamins and minerals. Grab some gloves and pick the fresh young tops and put them in a pan. Cover them with a small amount of salted water and cook for ten minutes, drain then add to the rest of your soup ingredients and cook for another ten minutes, then liquidise.
Opposite- leaved Golden Saxifrage – Chrysosplenium oppositifolium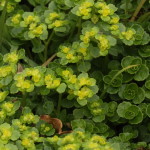 The plant grows along the ground putting down roots and potentially forming large, dense mats.  Found by damp, forest paths and ditches and streams, the small leaves are worth picking and adding to salads. They have a mild watercress taste.
This time of year they could be mixed with young dandelion leaves and sorrel leaves.
Jess Lucas, Herbal Ways