This month I shall be focusing on three berries. You can mix them together to make jam or bake into a pudding like crumble. All three can be found in the forest but the first one on the list you may have to hunt for.
Bilberries ( Vaccinium myritillus)  – these small, blue berries are a healthy edible snack (they contain vitamins A,P & C) and they are said to be good for improvi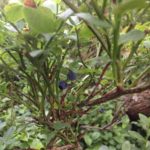 ng eyesight. They look very similar to blueberries. They grow on low bushes in acidic & poor soils. They can be eaten fresh or used in cooking.
Blackberries ( Rubus frutiuos) – its blackberry time of year again! They are just starting to turn black from early August onwards. Pick, eat and enjoy.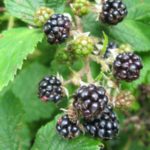 Elderberries (Sambucus nigra) – back in June I told you about the lovely cordial made from the elderflowers. Now it's the turn of the small black berries. Th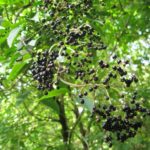 ese berries need to be cooked as they can give you an upset stomach otherwise. Check in a good guide book as always to make sure you have the correct tree. They too are rich in vitamin A & C and they can also be used to make an immune boosting Winter Rob: Simply in a pan cover the berries with honey, add spices like cinnamon and simmer for 40mins on a low heat. Strain & bottle and take 1tbsp adults or ½ tsp children in hot water as a hot drink. They can also be added to puddings.