Foraging news for June with Herbal Ways.net
This first month of early summer brings the hope of warmer weather and outside fun. So what better way to celebrate then by going into the woods to see what's there to forage. Remember not to pick anything unless you are 100% sure, take a good identification book and ask permission where needed. First up is a personal favourite of mine: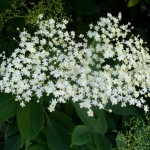 Elderflowers  (Sambucus nigra) – heavily scented, creamy white blooms made up of tiny flowers hang readily at this time of year from the Elder. It is a small, deciduous tree or shrub and is commonly found growing in hedgerows, waste lands and woods. These flowers can be dried and used as a tea or made into a delicious drink or ice lolly. Simply gather 12 elderflower heads, shake off insects, and add to a clean bucket. Add rind & juice of 2 lemons, 300 to 450g caster sugar (depends how sweet you like it), 4 litres water & 3tbsp apple cider vinegar. Stir and leave covered for 24hrs. Strain & bottle, drink or add to lolly moulds and freeze. Keep in cool place or freeze to use later.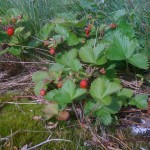 Wild Strawberry (Fragaria vesca) – These miniature strawberries can be found growing on grassy banks, verges and in open wood. They may be small but they have a wonderful, strong flavour! The leaves can also be made into a tea. Even better is to make an elderflower sorbet and add wild strawberries. (Mmm scrummy!  Ed)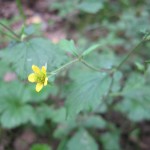 Wood Avens (Geum urbanum) – Also known as Herb Bennet, this woodland and wayside plant has flowers like a buttercup but smaller, with five yellow petals and green sepals. The plant grows from a rhizome with many, small wiry rootlets. These small roots have a clove like flavour and can be used to flavour drinks or foods. Simply wash the dug up roots (remember permission may be needed) and tie them together into a small bundle to add to your cooking. Remove roots after cooking and a wonderful clove flavour will have been imparted.
(Go on, get out there, our woods are just so fabulous to be in, we are so lucky to be living here! Ed)