We have some new foragers about to take over this column, but in the meantime, here are the ones from the previous two years – happy foraging!
FORAGING NEWS FEBRUARY WITH HERBAL WAYS
Imbolc is just around the corner and already I have spotted indications of spring. The lamb's tails on the hazel are beginning and snowdrops are blooming, along with lesser Celandine. As we journey on through February there should be many more plants visible to forage.
One to look out for is pine pollen (as long as you aren't allergic to it). In some areas of the forest where lots of pine grows, the floor can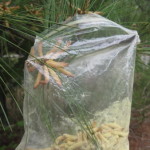 become carpeted in the yellow / golden dust, given off from the male catkins. It contains many vitamins and minerals and as it has over 21 amino acids and all 8 essential amino acids it is also a protein.
The male catkins are found mostly at the end of branches. To harvest pollen look for the light – coloured catkins on the tip of the branches. Female cones are darker and thicker than the male cones/ catkins.
To harvest simply place a plastic bag over the catkin and gently shake, continue this on the other catkins that you can reach. Sprinkle pollen on food or dry out and store.  Sprinkle over your breakfast,  yoghurt, or a smoothie.
Wall Pennywort (Umbilicus rupestris) –
Also known as Navelwort, it grows on walls and hedge banks. The plant has circular, fleshy leaves, with a dimple in the middle over the stalk. Eat the leaves, the young, small ones are the best, in salads or put some in your sandwiches.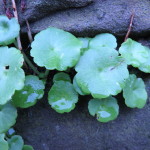 Primrose (Primula vulgaris) –
They grow in gardens and hedge banks, woods and fields. They are an early promise of spring. The flowers appear on very short stalks but as spring progresses the flower stalks maybe up to 15cm long. The five petals join into a narrow tube that is held in the green calyx. The petals are pale yellow with a deeper yellow centre.
The flowers can be eaten fresh or they can be crystallised with sugar for cake decorations or made into a pottage (a medieval soup) or indeed pickled.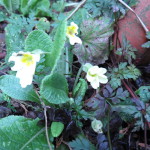 Other things to look for, with Annette Fuller
Hoorah!! Spring is on its way and so our wild food larder is starting to become grow with more vigour.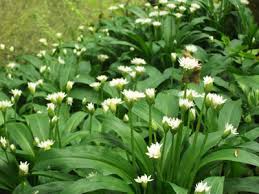 Wild garlic is just beginning to come up all over the place now, we love the leaves just to eat whilst out walking as well as to put  in salads, though the flowers are the absolute best part – I love eating flowers and these are one of my favorites, but happy to enjoy the leaves for now.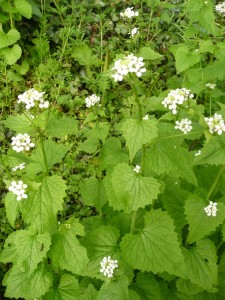 Jack of the hedge or garlic mustard makes an appearance. The leaves are wonderful in a salad or crushed to make a sauce for roast lamb.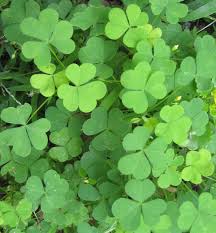 Wood Sorrel also starts to make a comeback. The vivid green leaves of this trefoil plant are easy to identify and abundant in our coniferous woodlands. They have a tangy lemony flavour, a great addition to cheese sandwiches or to accompany fish dishes.