Foraging is a bit like surfing!
Ok, so I am not having to bunk off work at a moments notice.  Then drive 4 hours to the coast, mid week to catch some awesome Atlantic swell!!
But, I can walk for miles in the woods and fields trying to find a certain ingredient without luck. Or wait for weeks for a good period of rain to bring up the mushrooms… Foraging, like surfing can take a whole load of commitment and waiting.
Some things however are much less trouble to get your hands on.
The mighty Chestnut is one such prize and as the October winds start to blow through, they will be dropping from the trees in their millions.
Originating in Greece and brought to our shores by the Romans, this tasty treat is identifiable by its green hedgehog jacket with many more spikes than the inedible Horse Chestnut (conker). Unlike most nuts, chestnuts are high in carbohydrate rather than protein but contain no gluten making their flour a great option for a gluten free diet.
Finding these beauties is not hard. Find a Sweet Chestnut tree, battle with squirrels, pick up nuts, take home. Easy! At home things need a little more work. Put the nuts (free of their jackets) in a bowl and cover with boiling water for a few minutes. This will soften the skins and make peeling a little easier.
Once peeled they are ready to use. My favorite Chestnut recipe is below. It's a wonderful seasonal soup using the first of the seasons parsnips, our nuts and a bottle of "Over the hill" Dark mild from the Hillside Brewery.
Parsnip, chestnut and ale soup.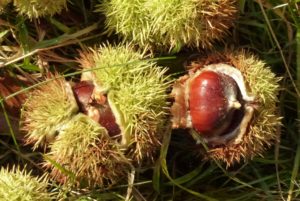 100 g  butter
600 g parsnips, peeled and chopped smallish
1 small leek, trimmed and chopped
2 sticks of celery
175m "over the hill" ale or maybe "old speckled hen"
200 g peeled chestnuts
1.5 l vegetable or chicken stock
4 sprigs fresh thyme
300ml double cream
Melt half of the butter in a  heavy-based saucepan. Add the parsnips, leeks, celery and tyme, cook gently without colouring  until the parsnips are soft.
Add the ale and chestnuts simmer/reduce gently for a further 10 minutes or so. Season with salt and pepper.
Add the stock and bring to the boil, then simmer for 5-6 minutes.
Remove the pan from the heat. Remove any thyme stalks and either using a stick blender blend the soup until smooth. Pass the soup through a fine sieve and set aside.
When ready to serve, heat the soup gently, but DO NOT allow to boil. Pour into bowls and garnish with a swirl of cream, black pepper and thyme.
Courtesy of Ian Barnes ("Barney") at 

Mobile: 07954583784, website www.infamouscatering.co.uk 
Facebook Infamous Catering