Sky grey, dark grey, lighter grey… "What the heck, we're off!"
The strong south westerly tries its best to pull me from the slippery rungs as I descend. Bare footed I step from the ladder into cold grey slightly funky mud. Like icy worms it slips between my toes as I sink just a little and the rain that has been threatening all day decides now to come at me, sideways.
Paddling across the last of the retreating water, my little man Ed and I are off to the salt marsh, freshly exposed by the receding tide, for a spot of seaside foraging.
As a committed/committable foodie and lover of wild delicacies, the opportunity to indulge in one of my favourite coastal ingredients is too good to miss, come hell or high water!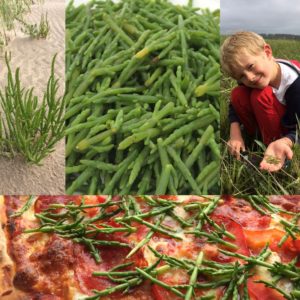 Marsh samphire is very 'on trend' and a surprisingly versatile food. Less bitter than rock samphire, which is sometimes seen for sale, it has a very short season from late June to early August. After that it starts to get a stringy core and later, it's plain woody. You will find it in salt marsh in and around estuaries this summer on your holidays across the UK. Essential kit for foraging are some scissors and a bag, simple.
When harvesting, you are looking for small young plants of around 2 to 4 inches, hold the tips and snipoff the tender tops. When I say tender, we are looking for the fresh green, almost gelatinous centred young shoots, a segment before it starts to yellow (think of the tiny offspring of aloe vera and asparagus). If it pulls apart with no woody fibre or string, you're good.
Back in the kitchen or camp there is much more to this super nutritious free sea veggie than just steaming it with a bit of fish!
Raw it's like salty cucumber – a great addition to summer salads; thrown in at the last moment it will liven up a stir fry; peel and simmer garlic cloves for 20 min, then roughly chop and pan fry in butter and rapeseed oil until golden, chuck in the samphire with some black pepper for another minute and serve with lamb or chicken, or bung it in a pasta dish… Get creative! This is a great wild food that you can easily identify come rain or shine, and it's free free free!
Me?  I put it on a pizza instead of olives. Lazy, but sooo good; I picked, it so I can do what I like. As can you!
Happy Summer Holidays.
Barney,