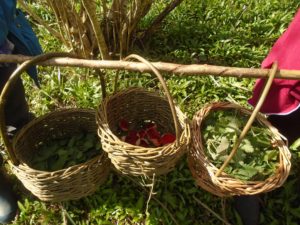 Happy Spring, Foresters!
And isn't it a beauty? The air is warm and the skies have been perfectly blue.  Birdsong fills our ears and the sent of pear blossoms is in the air.  And everywhere I look… DANDELIONS!
The Dandelion by Vachel Lindsay
 O dandelion, rich and haughty,
King of village flowers!
Each day is coronation time,
You have no humble hours.
I like to see you bring a troop
To beat the blue-grass spears,
To scorn the lawn-mower that would be
Like fate's triumphant shears,
Your yellow heads are cut away,
It seems your reign is o'er.
By noon you raise a sea of stars
More golden that before.
As organic gardeners, dandelions are a welcomed companion plant in our garden.  The long and strong taproot brings up much needed nutrients to the topsoil when mulched. The bright yellow blossom welcomes hungry insects. And our pet rabbit is satiated with bitter green abundance.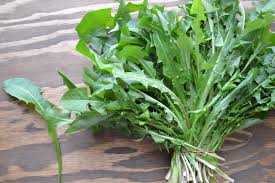 Dandelion, Taraxacum, is also one of my very favorite plants to cook with.  And as it turns out, many of my friends love it too.  While researching recipes for this article, I learned that last Mother's Day my mate's little daughter mixed the petals into pancake batter. My dear cousin eats it to combat her rigorous MS treatments back in the States. Fellow Foresters add it in their salads, make cordial from their flowers, coffee from it's root, and balm from it's leaves. And our Welsh neighbors make syrup for their morning porridge and wine from the flowers.  In my house we blanch the leaves, chop finely once cool, then mix it into our bread dough to make a beautiful green loaf.  Use it as would would any other dark green leaf, and if eating it raw is too bitter for you, fry it up with a big spoonful of butter or oil and feel the goodness sink into your bloodstream. Like other wild greens it is full of minerals and vitamins, plus the bitterness is a great aid to our digestive systems.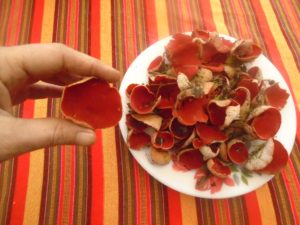 Next, the edible fruiting body of the Scarlet Elf Cap, Sarcoscypha coccinea, is so stunning in appearance it feels much like discovering hidden treasure.  Most often found growing in deciduous woodlands on fallen branches, partially covered in a mulch of moss and fallen leaves. Hunt for scarlet elf caps beneath the European Hornbeam trees as the favorable conditions will produce an abundance of mushrooms. The elf caps look like deep red jewels amongst the green moss and can't be missed.
This week I found hundreds elf caps under two trees near Sling. I took only a small basketful of the best and most perfect fruit. Once home I separated them into two piles… the really muddy and the not so bad.  The not so bad I brushed off with a small clean toothbrush, trimming off any part of the mushroom that was damaged.  The really muddy ones I soaked in water for about ten minutes then peeled the outer skin off, reveling perfectly clean and delicious fruit underneath.
All of these went into my jar of mushroom brine, joining puffballs from November, oysters from January, and jelly ears my kids brought home last February.  To start your own jar of mushroom brine, layer your favorite wild mushrooms with generous handfuls of good quality sea salt.  The salt draws out moisture over time, but if the mushrooms are not immersed after a couple of days it's a good idea to add a half-cup of spring water to help them along.  Just a tablespoon or two added to a pot of soup or stew is divine.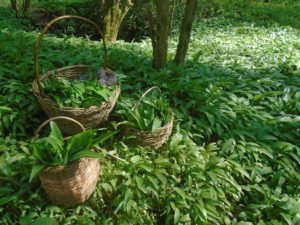 And finally, the proud Wild Garlic (Allium Ursinum) or Ramson as I know it.   This time last year I prepared ramson soup, ramson curry, ramson quiche, ramson lasagna, pizza and ravioli, (I put it in the pasta dough, too!) I thought I was taking advantage of the short season, but by the end of the month the look and smell of it was cause for dinner table revolt. After my over zealous enthusiasm for the ingredient, this year's very first offering of ramson infused mash did not go down well at ALL. After much creative thinking, here is the one and only way my kids have enjoyed eating it…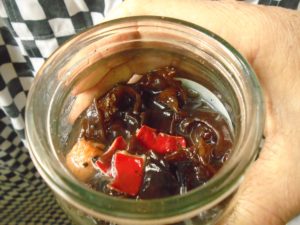 ramson kraut!
I've watched my kids gobble down this divine and healthy ferment, asking for more and more.  We are reaching the end of ramson season, but get out there and try preserving some before it's too late.  Add the clean, raw leaves, peas and/or flowers to cider vinegar and sea salt.  Fill a preserving jar with half a cup of vinegar, and start layering leaves with a sprinkle of salt now and then, using a wooden spoon to push the mix to the bottom of the jar.  The greens will shrink down over time so really cram them in there. Good for at least six months if stored in a dark, cool place.
Happy hunting!
Foodforesters.com