It's been a lovely Easter and the sun (when its out!) has some real warmth to it. This is great news for all the spring plants that have been bursting up. There are still plenty of previously mentioned plants about and here are some more to add to your salads or soups. Remember; always make sure you are 100% sure that you know what the plant is that you are picking and always get the landowners permission where needed.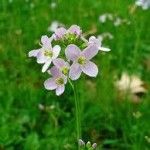 Ladies smock or cuckoo flower (Cardamine pratense) – This delicate plant is in the cabbage family & grows in fields, woods and by streams. It has widely separated singly-pinnate leaves that appear alternately on the hairless stem. The dark green & sometime reddened leaflets are fine & feathery. The flowers are pink or white with a yellow centre. Like its close relative Hairy bittercress, its leaves are eaten in salads, having a hot peppery flavour & the flowers, with their milder taste, can be eaten too.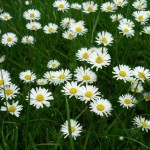 DAISY (BELLIS PERENNIS) – The folk name for Daisy is bruisewort and it is great for rubbing onto skin after tumbling over (a hazard whilst out foraging!) Just crush some flowers and leaves until juicy then add to bruise. But Daisies can also be eaten and they make salads look very pretty too. The leaves and flowers can be added to salads as they contain; potassium, phosphorus, magnesium, calcium, iron, vitamin A and protein.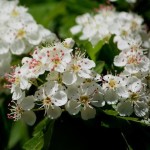 HAWTHORN (CRATAEGUS OXYACANTHA) – This common hedgerow small tree needs no introduction. The flowers will not be out until sometime in May but the leaves are just starting to come out now. Another country name for hawthorn is "bread & cheese" as the young leaves and leaf buds can be eaten as a wayside nibble or added to salads along with the flower buds. Just be careful of the sharp thorns when picking!