May is a wonderful time to be out foraging in the forest with the blue haze of the bluebells and the sound of the cuckoo. Amongst the bluebells the delicate white flowers of the wood sorrel can be seen.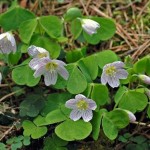 Wood-sorrel (Oxalis Acetosella) is easily identified with its clover like leaves but as always, and with anything that you forage, make sure you know that your identification is correct. The leaves and flowers of wood sorrel can be added to salads.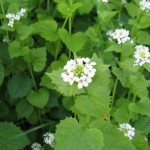 On the hedgerows and forest paths Garlic mustard (Alliaria Petiolata) can be found. Its garlic smell makes identification easier. The leaves also can be added to salads or made into a sauce.
A tree that you may find more in parks than forests is the Lime tree ( Tilia Europoea).The flowers, known as Linden flowers, make a wonderful, soothing tea. Just add 1 tsp to a cup of boiling water, infuse 10 mins, strain and drink. The leaves can also be added to salads.