The woods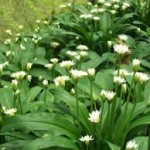 and shady riverside banks are the best places to look for Wild Garlic, also known as Ramsons (Allium ursinum). The leaves are broad, flat and bright green and the whole plant gives off an unmistakable garlic odour. The flowers appear in April and are white. The whole plant is edible but it is an offence to dig up bulbs if it's not your land. The leaves and flowers can be added to salads. I like to add chopped leaves to mayonnaise or you can ferment them for a longer shelf life too.
Sweet Violet (Viola odorata) These pretty bluish-violet flowers give off a heady fragrance when disturbed. The flowers can be added to salads or sugared to use as cake decorations. To sugar the flowers (you can also add primrose flowers & other edibles if out); lightly beat 1 egg white with 1 tsp water. Paint eggwash over flower, covering back & front. Put ¼ cup caster sugar in a bowl and dip the flowers in, covering well. Then leave to dry on baking paper tray 1 to 2 days until hardened. Store in a dry, dark place.
I hope you have some foraging fun finding and trying out the above plants and don't forget that the plants mentioned in last month's news will still be ripe for pickings too.